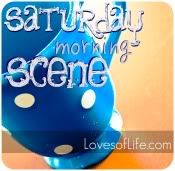 Today I'm linking up with
Katie
at Loves of Life for the Saturday Morning Scene. Here's what is going on this morning.
Check out my girl. Today she begins her swimming lessons at the YMCA (you can start singing, I won't tell). She has no idea what swimming lessons are, but she sure is excited about them. All she knows is that she is going to be in the water with Mommy, Daddy, and her best bud, Matthew.
And really, with that plan of action, what else do you need to know?
She has been telling Sophia and the cat that she's going to go to the "big water" all morning.
My little peanut is getting so big. Today it's swimming lessons, tomorrow it's driving lessons. Please slow down, baby girl. You're growing far too fast for your mama.