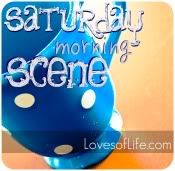 I'm linking up with
Katie at Loves of Life
this morning to share our Saturday Morning Scene. Head on over and share yours too!
Everyone slept in a little bit later this morning so we celebrated with Chocolate Covered Strawberry Pancakes. Emma definitely enjoyed hers and had to be reminded several times to eat slower, rather than shoving the entire thing in her mouth. I guess she gets her love of all things chocolate from her mama. ;)
The kitchen table is the place where most of our fun times occur. It gives us a chance to sit down together and
listen to Emma
talk. Emma always uses this time of undivided attention to entertain us with a story, a dance, a song...whatever.
This morning, she got Daddy to sing along with her. Her tune of choice? The "A Team" theme song. Of course, it's the
Sesame Street version
, but entertaining none the less.
I often wonder how we stayed entertained before we had children.