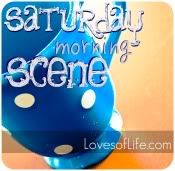 This morning we headed out to the mall to enjoy Winnie the Pooh story time at the Disney Store. I have really been building up the Pooh excitement at our house because I plan on taking Emma to see the new Winnie the Pooh movie next weekend. She has a pretty good attention span for a two year old, and I think she'll be fascinated by all the kids and the big screen. Every time she sees the previews she shouts, "Look! It's Pooh!"

She loved the story and they let all the kids hold a character while it was being read (marketing genius!). We listened to the story, played at the Play Zone, and had lunch. An overall great morning/afternoon at the mall.
This is how excited I am about Pooh.
This gumball machine blew her mind. She's never had a gumball before--heck, she doesn't even know what gum is--but this was big and colorful and she knew it must be something good.
Sophia woke up just in time to see Emma play at the Play Zone
Head on over to
Loves of Life
to share your Saturday Morning Scene!